Source : ct|29.03.09
French writer- Jean Bruce
Jean Bruce (22 March 1921-26 March 1963) was a French writer who has sold tens of millions of volumes. As indicated by his publisher, he broke all records in publishing.
From photo Harcourt Paris - Editions Presses de la Cité, Mystery collection
Jean Bruce has written several novels whose hero is a detective named Peter Larne. He also wrote the legendary series of spy novels OSS 117, whose hero Hubert Bonisseur de la Bath alias OSS 117, made him famous worldwide.
His many books have been published in several editions including "éditions Fleuve noir" and "Presses de la cité". Since 1950, over the decades, his novels have been reprinted several times with different covers. Novels in comics (Comics Pocket editions, for example) and many films were created from the novels by Jean Bruce.
The literary style of Jean Bruce is characterized by its simplicity and accuracy. In the novels of John Bruce, are included phrases well written, well constructed and relatively short. The vocabulary is simple, but well chosen;it illustrates perfectly the scenes, actions, situations, feelings and emotions. The rules of French grammar are respected. This adds many light to the story There is no vulgarity or shocking scenes.For example, sensuality and charm are always in perfect harmony with the story. The evocations are carried out with tact. The suspense is present on every page and makes we want to read all the novel at once.
After the death of Jean Bruce in 1963, during a car accident, his wife Josette Bruce (d. 1996) continued his work. She wrote about 150 new OSS 117 novels. More recently, children Francis and Martine Bruce added a few new novels in this impressive collection.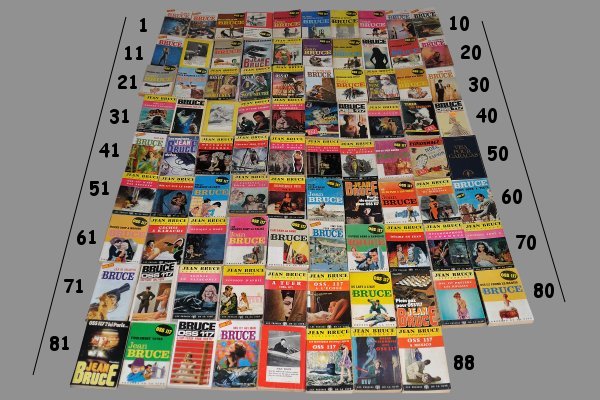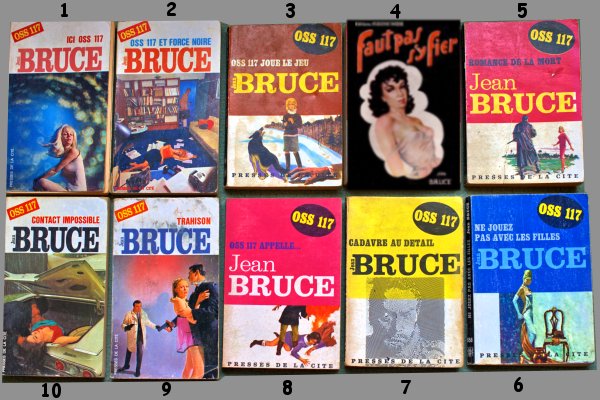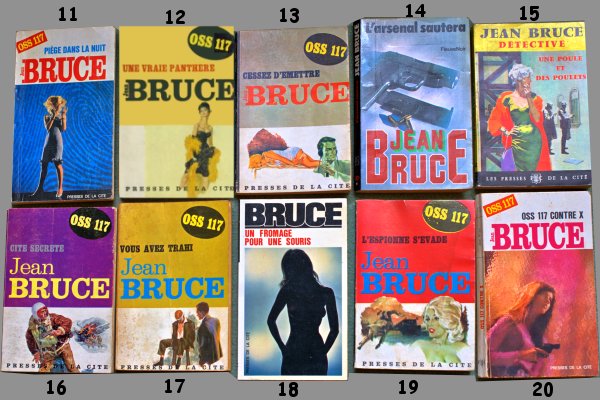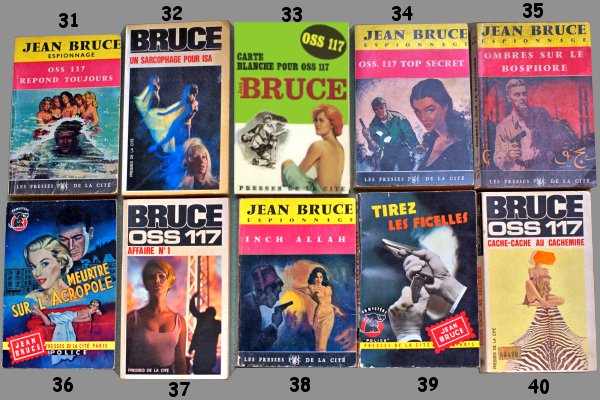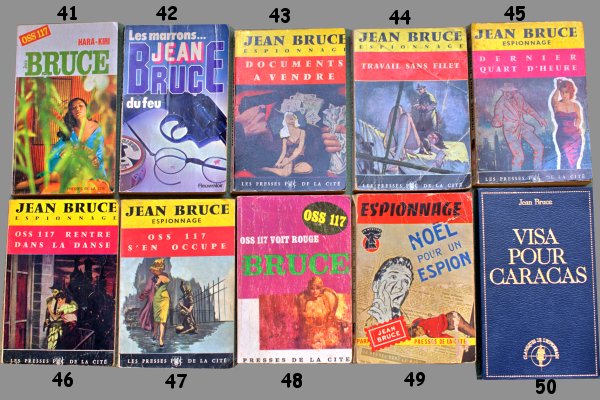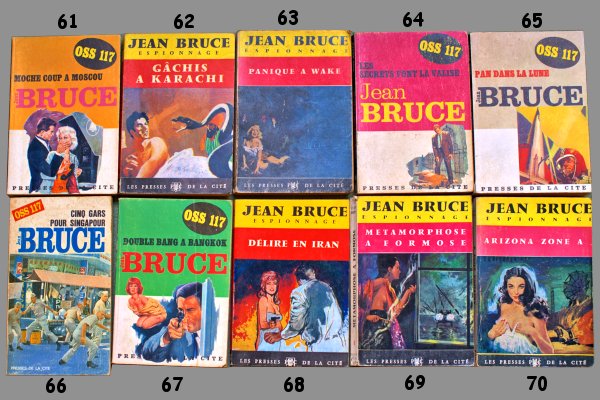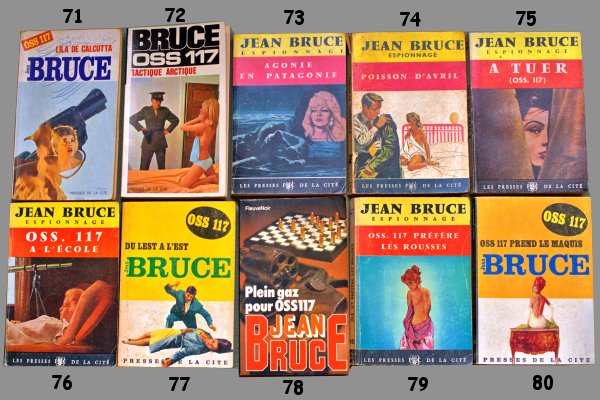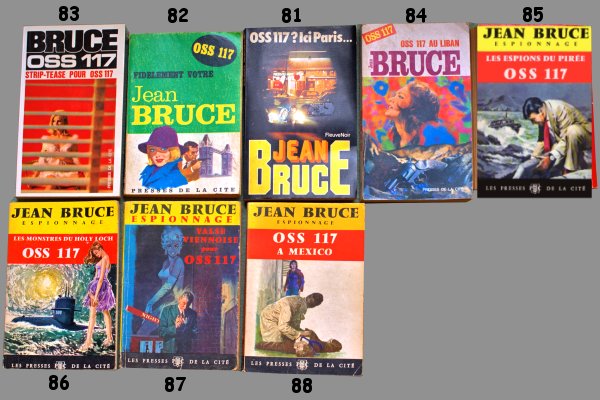 1 Ici OSS 117 (1949)
2 OSS 117 et Force Noire (1949)
3 OSS 117 joue le jeu (1950)
4 Faut pas s'y fier (1950)
5 Romance de la mort (1950)
6 Ne jouez pas avec les filles (1950)
7 Cadavre au détail (1950)
8 OSS 117 appelle (1950)
9 Trahison (1951)
10 Contact impossible (1951)
11 Piège dans la nuit (1951)
12 Une vraie panthère (1951)
13 Cessez d'émettre (1951)
14 L'arsenal sautera (1951)
15 Une poule et des poulets (1951)
16 Cité secrète (1951)
17 Vous avez trahi (1951)
18 Un fromage pour une souris (1952)
19 L'espionne s'évade (1952)
20 OSS 117 contre X (1952)
21 Chasse aux atomes (1952)
22 Pas une pour racheter l'autre (1952)
23 Tortures (1952)
24 Pays neutre (1952)
25 Alerte (1952)
26 A qui perd gagne (1952)
27 Angoisse (1952)
28 Sous peine de mort (1952)
29 OSS 117 n'est pas mort (1953)
30 Bonne mesure (1953)
31 OSS 117 répond toujours (1953)
32 Un sarcophage pour Isa (1953)
33 Carte blanche pour OSS 117 (1953)
34 OSS 117 top secret (1954)
35 Ombres sur le Bosphore (1954)
36 Meurtre sur l'Acropole (1954)
37 Affaire n°1 (1954)
38 Inch Allah (1954)
39 Tirez les ficelles (1954)
40 Cache-cache au Cachemire (1955)
41 Hara Kiri (1955)
42 Les marrons du feu (1955)
43 Documents à vendre (1955)
44 Travail sans filet (1955)
45 Dernier quart d'heure (1955)
46 OSS 117 rentre dans la danse (1956)
47 OSS 117 s'en occupe (1956)
48 OSS 117 voit rouge (1956)
49 Noël pour un espion (1956)
50 Visa pour Caracas (1956)
51 OSS 117 n'est pas aveugle (1957)
52 OSS 117 tue le taon (1957)
53 OSS 117 franchit le canal (1957)
54 Festival pour OSS 117 (1957)
55 Chinoiseries pour OSS 117 (1957)
56 Plan de bataille pour OSS 117 (1957)
57 Partie de manille pour OSS 117 (1957)
58 Un as de plus à Las Vegas (1958)
59 Le sbire de Birmanie (1958)
60 Atout coeur à Tokyo (1958)
61 Moche coup à Moscou (1958)
62 Gâchis à Karachi (1958)
63 Panique à Wake (1958)
64 Les secrets font la valise (1959)
65 Pan dans la lune (1959)
66 Cinq gars pour Singapour (1959)
67 Double bang à Bangkok (1959)
68 Délire en Iran (1959)
69 Métamorphose à Formose (1959)
70 Arizona zone A (1959)
71 Lila de Calcutta (1960)
72 Tactique arctique(1960)
73 Agonie en Patagonie(1960)
74 Poisson d'avril(1960)
75 A tuer (1960)
76 OSS 117 à l'école (1961)
77 Du lest à l'Est (1961)
78 Plein gaz pour OSS 117 (1961)
79 OSS 117 préfère les rousses (1961)
80 OSS 117 prend le maquis (1961)
81 OSS 117 ? Ici Paris (1962)
82 Fidèlement vôtre (1962)
83 Strip-tease pour OSS 117 (1962)
84 OSS 117 au Liban (1962)
85 Les espions du Pirée (1962)
86 Les monstres du Holy-Loch (1962)
87 Valse viennoise pour OSS 117 (1963)
88 OSS 117 à Mexico (1963)

siroal wrote on 10/08/13 at 18:21
Hello,
6-Ne jouez pas avec les filles : Hubert Bonisseur is not the main character, even if his name is mentioned as the owner of the Bath Agency. Otherwise, congratulations ! this php page is a superb work...
bge_94 wrote on 28/09/13 at 19:33
The novel "Lila de Calcutta" was used in the screenplay "Banco à Bangkok pour OSS 117" in 1964
p.bernard wrote on 23/10/13 at 14:53
Hello ! I founded an association dedicated to the illustrator Michel Gourdon (Association of Friends of Michel Gourdon) for better publicize this artist who died in 2011 and who signed during 29 years thousands of covers of "Fleuve noir". Of course Jean Bruce is an author and capital figure in the history of the editions "Fleuve noir" because he signed the first volumes of Special-Police and Espionage.
1) Do you know when Jean Bruce ceased its cooperation with the editions "Fleuve noir" ? what is the last title he signed and how many he has published in Special-Police and Espionage in "Fleuve noir" ? Do you know the reasons for his departure from the "Fleuve noir" ?
2) The novel "Ici OSS 117" is originally published under the title "Tu parles d'une ingénue" (Special Police): Do you know if the text was revised during reprints ?
Answer
1) I do not know the exact date when Jean Bruce ended his collaboration with "Fleuve noir" editions but it seems to me that last novel with a coverage "Fleuve noir" ( drawing M.Gourdon ) is "Sous peine de mort" that Jean Bruce writed in 1952.
I suppose he left the publisher at this period. I do not know why. I found an exemplar published by "Fleuve noir" for the 28 first novels. Of these 28, I found two published with the indication "Special-police" (Pas une pour racheter l'autre and A qui perd gagne ) but there are probably others that I have not ...
2)Yes, the text has been revised as can be seen quickly by comparing the text of the first page of the original 1949 edition ("Tu parles d'une ingénue") published by editions Fleuve noir and the text of an edition of "Ici OSS 117" published later in 1965 by the "Presses de la cité" for example .
Julien Loposso wrote on 27/08/14 à 14:52
I'm a big fan of novels like OSS 117. I also like films OSS 117, but the older !!! Not the new films with Dujardin because I think they not respect the spirit of the novels of Jean Bruce. Indeed, all fans of OSS117 know that Hubert is an American CIA officer, of French origin certainly, but American. I do not understand why, in movies Dujardin, he is considered as an officer of the french secret services !!! Although the films with Dujardin are known on a humorous style, I think they do not have the serious of James Bond, OSS117 or old movies like Furia in Bahia and A tout coeur à Tokyo with Frederick Stafford.
© http://turrier.fr (2007)